La semaine dernière sur une lumineuse inspiration, je réservais une session chez Art Home (prononcer Arôme), l'atelier culinaire qui fait parti avec le restaurant Nomiya de l'installation éphémère Electrolux au Palais de Tokyo. Le Nomiya est situé sur le toit du musée et offre de jour comme de nuit une vue somptueuse sur Paris. Il peut recevoir jusqu'à 12 convives et se réserve sur le site dont le lien se trouve plus bas (actuellement les réservations sont bloquées dans l'attente d'une autorisation de prolongation d'activité dont l'échéance était arrivée à terme début juillet).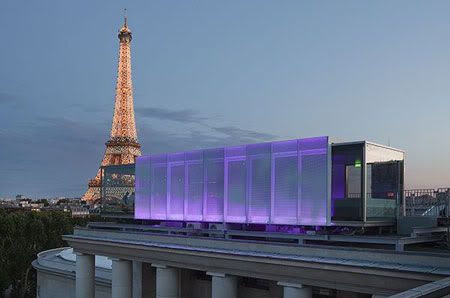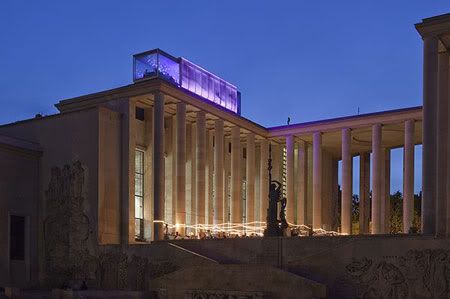 Rendez-vous à 13h. L'atelier culinaire se trouve lui dans la mezzanine du Palais et, luxe suprême par cette chaleur estivale, il est climatisé. Le chef Raphael nous reçoit très amicalement, tandis que nous découvrons un bel espace, ultra-équipé (Electrolux oblige) et lumineux.
Au menu du jour, nous cuisinons un plat et un dessert. Je vous donne ici la recette du plat, le dessert nécessitant une sorbetière, il n'est pas à la portée de tous.
Nous nous équipons des tabliers fournis (qui sont offerts à l'issue de l'atelier, encore une gentille attention). Et c'est parti! Les indications sont brièvement fournies et immédiatement notées fébrilement sur des feuilles de papier : ici, pas de support de cours ou de recettes imprimées, le chef improvise le menu selon l'humeur du jour. Alors il faut suivre et s'adapter :)
Foie Gras poêlé sur un carpaccio de courgettes jaunes et concombre, aubergine sauce betterave et julienne de daikon
j'ai essayé d'adapter les quantités pour 4 (nous étions 8)
1 foie gras frais coupé en large tranches et rapidement dénervé à la pince
1/2 concombre, 1/2 courgette jaune
4 belles tranches d'aubergine
1/2 betterave rouge
1/3 de
daikon
jus de citron
huile d'olive
vinaigre de Banyuls
vinaigre de riz japonais
2 gousses d'ail haché
menthe & persil
piment d'espelette
sel de Maldon
poivre blanc et poivre noir
Assaisonner le foie gras frais avec le sel de Maldon et les poivres blanc et noir au moulin. Appuyer avec le plat de la main pour faire pénétrer dans le foie l'assaisonnement. Répéter l'opération de chaque coté puis réserver au frigo jusqu'à la cuisson.
Eplucher le Daikon et détailler en fine julienne, assaisonner au sel de Maldon et vinaigre de riz japonais, laisser mariner.
Emincer le concombre et la courgette jaune dans la longueur avec une
mandoline
. Dans un bol mélanger huile d'olive, vinaigre de Banyuls, sel de Maldon, poivre, piment d'Espelette, l'ail haché, quelques feuilles de menthe et de persil émincées. Ajouter les tranches de courgette et concombre, laisser mariner.
Eplucher et détailler en petits cubes la betterave, cuire à l'eau bouillante salée pendant 1/2 heure. Mixer avec un trait de citron. Goûter, rectifier l'assaisonnement si nécessaire et passer au chinois pour uniformiser la texture.
Préparer la marinade: dans un bol mélanger huile d'olive, sel de Maldon, poivre, les gousses d'ail hachées, la menthe et le persil émincés. Poêler des 2 côtés à feu vif les tranches d'aubergine avec de l'huile d'olive jusqu'à ce qu'elles soient dorées. Les disposer sur un plat allant au four et les badigeonner de marinade. Enfourner 20 mn à 180°C en retournant les tranches et les badigeonnant de marinade à mi-cuisson.
Dresser les assiettes en commençant par alterner les tranches de concombre et courgette puis la tranche d'aubergine, un petit tas de Daikon au vinaigre et finir avec un trait de sauce betterave.
Poêler dans l'huile d'olive à feu vif le foie gras des 2 côtés (cette mission périlleuse fût laissée à la charge du chef... ouf ! ). Puis retirer le surplus de gras au papier absorbant.
Terminer de dresser les assiettes avec le foie gras poêlé.
... accompagné par un pain façon pizza bianca recouvert de fines tranches de lard réalisé par Raphael, merci chef !
Voilà, il est 14h30, après un petit tour sur la terrasse arrosé d'un verre de
Cheverny
rouge et un rapide coup d'oeil (et oui, ce samedi il fait vraiment trop chaud pour s'éterniser sur la terrasse, dommage...) sur le panorama parisien et le Nomiya, nous redescendons à l'atelier et dégustons notre repas.
Si vous venez sur Paris, n'hésitez pas et testez cette unique et délicieuse façon de découvrir la cuisine dans un cadre autant exceptionnel qu'inattendu. En plus, à 27€ par personne, cet atelier culinaire reste tout à fait abordable, alors foncez, vous ne le regretterez pas!
* * * * *
Last week on a brilliant inspiration, I reserved a session at Art Home (pronounce Arôme), the culinary workshop which is along with the restaurant Nomiya of the temporary installation Electrolux at the
Palais de Tokyo
, a museum of contemporary art in Paris. Nomiya is situated on the roof of the museum with a splendid sight on Paris.
Meeting(Appointment) at 1 pm. The culinary workshop is located in the mezzanine of the Palais de Tokyo and, supreme luxury by this summer heat, it is air-conditioned. The chef Raphael receives us very friendly, whereas we discover a beautiful space, beautifully-equipped and bright.
Foie Gras poêlé sur un carpaccio de courgettes jaunes et concombre, aubergine sauce betterave et julienne de daikon
serving for 4
1 fresh foie gras cut in large slices in the width. See interesting informations about foie gras and how to cook it here:
www.hudsonvalleyfoiegras.com/finecooking.html
1/2 cucumber, 1/2 yellow zucchini
4 large slices of eggplant
1/2 beetroot
1/3
daikon
lemon juice
olive oil
Banyuls vinegar
Japanese rice vinegar
garlic
mint & parsley
Espelette pepper
Maldon salt
black & white pepper
Season the fresh foie gras with maldon salt and white & black peppers. One seasoned, put in the fridge until the cooking.
Peel the daikon and cut it in fine julienne, season with maldon salt and Japanese rice vinegar, leave aside.
Slice thinly the cucumber and the yellow zucchini in the length with a
mandoline
. In a bowl mix olive oil, Banyuls vinegar, maldon salt, pepper, Espelette pepper, the chopped garlic, some leaves of mint and parsley sliced thinly. Add the slices of zucchini and cucumber, leave aside.
Peel and cut in small cubes the beet, cook in boiling salted water for 30mn. Mix with lemon juice. Taste and adjust the seasoning if neeeded, leave aside to cool.
Prepare the marinade: in a bowl mix olive oil, maldon salt, pepper, chopped garlic, some leaves of mint and parsley sliced thinly. Cook eggplant slices in a hot pan with olive oil. Arrange them on a dish and brush them with marinade. Put in the oven 20 mn at 180°C (at mid-cooking, turn slices on the other side, brush with marinade and back in the oven).
Let's prepare the plates. Start by alternating the slices of cucumber and zucchini then the slice of eggplant, a small heap of julienne of daikon and finishing with a line beetroot sauce.
Cook the fresh foie gras in a very hot pan with olive oil on both sides. Then remove the surplus of fat with kitchen paper. Add in the plates and serve.
So it's about half past 2 and we go for a quick visit upstair with a glass of red
Cheverny
, see the terrace and its kitchen garden and the Nomiya Restaurant on the roof with its breathtaking view over Paris. But the air is so hot we finally withdraw to the mezzanine and have our lunch.
If you come to Paris then you must add that workshop in your visits. It's a unique way to experience French cooking in an exceptional, rare and unexpected location. 27€ per person makes it also very affordable plus you'll leave with a souvenir: the Art Home's apron is offered ; )
* * *
Welcome to Art Home, a unique new experience you'll want to come back for. This exceptional concept was brought to life by Electrolux and the Palais de Tokyo. We invite you on a culinary journey that will take you to the heights of Paris, and beyond.
"BOOST YOUR CULINARY CREATIVITY AT ART HOME
Come and take part in a workshop unlike any other. From the garden to the kitchen, you'll learn hands-on culinary techniques while basking in the flavours of the season. It's all part of the Art Home experience. You'll also get to join culinary director Gilles Stassart or his team for an up-close look at the secrets and inspirations behind the sumptuous dishes served in the Nomiya restaurant. See the history, discover the creations, and sit down and savour them for yourself."
WEBSITE:
http://www.art-home-electrolux.com