Yesterday I was declined to be a FoodBuzz Publisher :( that's when I realised that all my texts were not in English, especially some of my recent recipes remain in French, because cooking, taking photos and publishing recipes takes a long long time... translation takes me ages. The mail said "blog written in a
strong
English"... Oops again! Though this mail was not personal I know my English may be under the requested level. Anyway, if I try not I shall never succeed in becoming a FB publisher, so from now on, you'll have to read that Froglish of mine, half Frog half English speaking!!! Sorry for that and please, please be patient, maybe I'll improve with time, who knows! Any help is welcome : ))
So yesterday was my man's birthday.
To fetch food for the diner, there's no other place in Paris than Lafayette Gourmet. Oh, on this side of the Seine's bank I mean, for the Rive Gauche (left bank), the equivalent is
La Grande Epicerie
, which I love too!
Lafayette Gourmet is part of the Main Department Store
Galeries Lafayette
.
Lafayette Gourmet's front door, rue de Provence, Paris
Like a Department Store, it's supposed to concentrate a lot of stuff in the same place. Which is quite true. So here in Lafayette Gourmet, you can find excellent foies gras, charcuteries, smoked salmons, caviar if you can afford it, lots of caterers (italian, chinese, greek, lebanon, etc.) but also common foods from about everywhere. There's also a wine area with a large and excellent selection of "crus", amongst the caterers,
Dalloyau
to takeaway and some others propose a small space so you can eat a quick lunch (or diner because its open up to 9:30pm). A Tafa's, the Chinese caterer there's only a small shelf to put one or two boxes at your mouth's height but, hey, that's all you need for a noodle soup on the run, dont you? ;)
Tafa traiteur, chinese takeaway, I cant resist that one!!
My lunch at Tafa, yummy and cheap
Fruits and vegetables
Foies gras, cassoulets, confits, produits du Périgord...
Of course, if you go to the Japanese or Chinese area, you'll find less products than in my small Korean shop close to home, because it is not meant to be exhaustive or as specialized, but here you can find the "main" food from around the world that you could not find in the traditional French market or grocery. Not only "they'll have it", but usually it will come in very good quality too.
Selection of salts
British will find here Digestives Biscuits and Marmite, Italian their pastas, Spanish their favorite bellota ham, etc.. there's an impressive selection of products from almost everywhere from olive oil to salts and peppers, spices, dressings & sauces, cookies, chocolates, waters, teas, coffees, sweets, etc. also they sell fresh products like meat and fish.
Looking for olive oil?
Lonzo, Bellota Bellota, Pata Negra, Chorizo...
Sugars of all colors and shapes
Everytime I come here, I bless them for not having shopping trolleys: they only have baskets or very very small golden trolleys, because it is supposed to be a proximity market and the price should avoid you to buy to much stuff... But again, hopefully they don't have trolleys!! I might come back home with hands full and empty wallet :)
Looking for olive oil?
It's already Easter in Lafayette Gourmet!
Unfortunately I was not allowed to take pictures of the
Sadaharu Aoki
Patisserie which is one of my favorites and was the MAIN reason of my visit this time.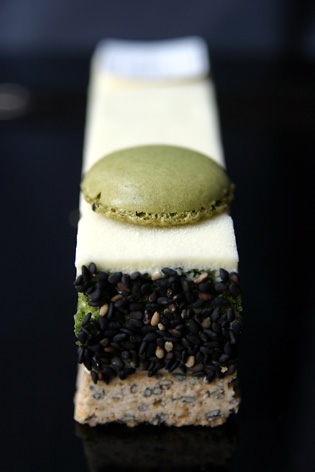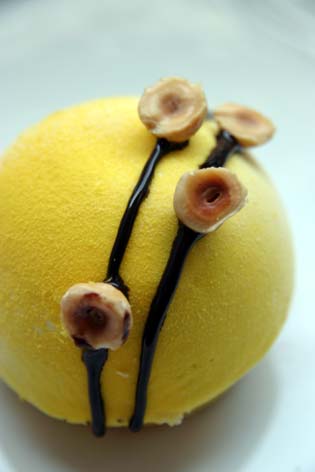 ©
Sadaharu Aoki
Zen & Citron praliné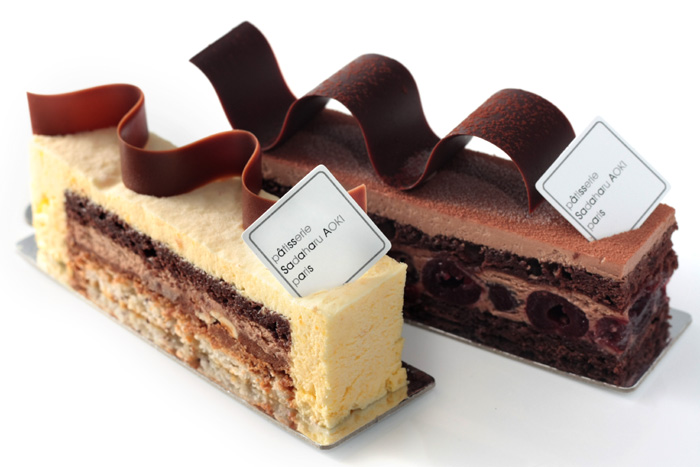 ©
Sadaharu Aoki
Valencia & Forêt Noire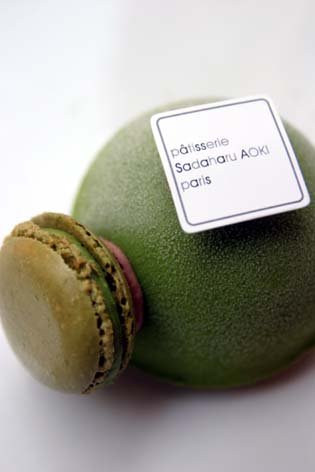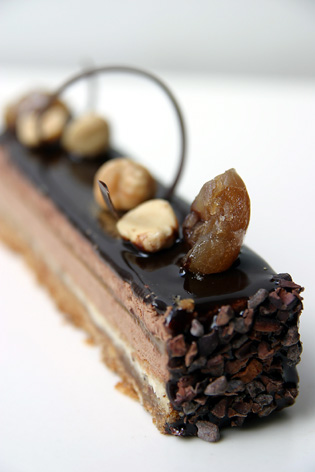 ©
Sadaharu Aoki
Duomo mâcha azuki & Cuneo
I came here for the birthday cake but it's Tuesday and they don't have any big cakes on week days. Only small individual. I am SO SO SO disappointed !!!
The quest of the cake is not ended yet!
Hopefully our home is close to 2 very good patisseries.
to be continued...